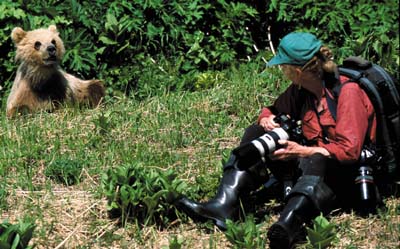 Maureen and Lemon in July 2002.
Maureen's Goals for 2003
· Complete field research at Kambalnoye Lake, summer 2003.
· Complete the series of portraits of Biscuit with her cubs, focusing on the emotional side of the bear.
· Complete paintings where cast tracks appear on canvases to address need to recognize the fragile and important link between grizzlies and wild salmon in the conservation of their habitat.
· Establish courses where art and photography can be used to explore the conservation of wild salmon, grizzly bears, whales and their linked habitat. To be established and initially taught by Maureen Enns. Locations to include the West Coast of BC.
· Continue to assist Fedia Farberov with the Guide Training Program of Kamchatka.

-Maureen